Hi all,
Apologies for getting this to you late in the day! Please see the message below from the Food System Economic Partnership regarding Child Nutrition Reauthorization.
Thanks,
Colleen
From: Food System Economic Partnership [mailto:Food_System_Economic_Partnership@mail.vresp.com]
Sent: Tuesday, November 16, 2010 11:50 AM
To: Colleen Matts
Subject: Take Action on Child Nutrition
Click to view this email in a browser
Take Action on Child Nutrition Today!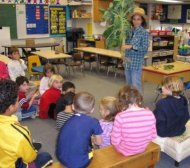 CHILD NUTRITION REAUTHORIZATION
Call-In Day: November 16
Contact your congress member and let them know they need to pass this important legislation. Call 1-877-698-8228!
Congress returns for a lame duck session on November 15—we need to make sure they put passing a strong Child Nutrition bill at the top of their priority list.
Why? Because one in four American children is at risk of hunger—and one in three is overweight or obese. We must have the vital improvements to child nutrition programs provided in CNR so we can tackle these problems head on.
Help us tell Congress and the White House, "Now is the time to pass the Healthy, Hunger-Free Kids Act (S. 3307) and restore the SNAP program!"
DETAILS ON CHILD NUTRITION REAUTHORIZATION (from Feeding America)
Child Nutrition Reauthorization is a process that Congress goes through every four years to authorize funding to the programs in The Child Nutrition Act, including the School Breakfast and the National School Lunch Programs, the Summer Food Service Program (SFSP), the Child and Adult Care Food Program (CACFP), and the Special Supplemental Nutrition Program for Women, Infants and Children (WIC). The reauthorization process also provides an opportunity to improve these programs by addressing nutritional quality of meals, service gaps, and program access.
Who does it affect?
Millions of low-income children benefit from the healthy food provided by federal child nutrition programs, however too many hungry children are not being reached by current child nutrition programs.
Subsidized school meals play a critical role in addressing childhood hunger during the school day. Sadly, when school is out, such as afternoons, on the weekends, or in summer, children do not have access to nutritious meals they need to thrive.
It is unacceptable that nearly one in four children in this country faces hunger. As many studies have shown, children who are hungry have difficulty learning and concentrating in school and are at-risk of developmental and social delays. The programs in the Child Nutrition Act provide the vital meals and nutrition that our kids need in order to succeed. Feeding America supports a strong and well-funded Child Nutrition Reauthorization bill.
Where are we in the process?
The Child Nutrition Act was originally slated for reauthorization last year (2009). It was given a yearlong extension to September 30, 2010. During the time of the extension, Feeding America and other anti-hunger advocates across the country worked with Congressional leaders to write and pass a strong Child Nutrition Reauthorization.
On August 5, 2010, the Senate passed S.3307: "The Healthy, Hunger-Free Kids Act" (Sen. Blanche Lincoln, D-AR). It contained many historic improvements to the Child Nutrition Act, including the first non-inflationary increase to the reimbursement rate that schools receive per meal served. This, along with establishing standards for nutrition education and wellness, would help schools to serve more nutritious meals to kids. The bill also expanded summer meal service in areas with low-income children and afterschool meals as well. Unfortunately, S.3307 proposed to pay for these improvements with a $4.5 billion cut to the Supplemental Nutrition Assistance Program (more commonly known as SNAP or the Food Stamp program).
Feeding America, with many other anti-hunger advocates, urged House leaders to craft a better Child Nutrition bill. We wanted a bill that included the long overdue program improvements that our nation's children deserve without cutting the food buying power of over 42 million low-income Americans, many of whom are the parents of the very children that benefit from the Child Nutrition Act.
The House could not finalize a bill or vote to pass S.3307 prior to the September 30, 2010 deadline.
What's happening now?
There will be an opportunity to pass the Child Nutrition bill during what is known as the "lame duck session" between November 15 and the end of the legislative session. However, as both Senate and House leaders have told advocates that the Senate will not take up a revised bill this year, we believe that the only way forward is for the House to pass S.3307 and address the SNAP cut and the other program improvements legislatively and administratively.
House leaders have been negotiating with the White House to get the necessary assurances that would allow the House to pass S.3307 with a commitment that the Administration will restore the SNAP cut and protect it from future cuts, and make additional improvements to program access.
Feeding America supports these efforts and believes that it is the best opportunity to secure a Child Nutrition Bill and safeguard SNAP.
There are some anti-hunger groups that have taken the position of opposing S.3307 until the cut to SNAP has been fully addressed. While we respect this principled stand, we believe that this position is too risky given the volatile political climate and the fact that the Senate will not take up a different version of this bill.
If Congress cannot pass a bill prior to the end of the year, what will likely happen is that the Child Nutrition Act will get a yearlong extension. While in other circumstances, another year would give Congress more time to craft a more robust bill, the coming year will likely be a less hospitable political environment for such actions.
Feeding America is deeply troubled by the SNAP cut used to pay for S.3307 but we also know that our nation's children cannot wait any longer for the historic improvements to the Child Nutrition Act included in S.3307. As such, we believe that the best we can do for low-income children and their families is to pursue a compromise position – pass S.3307 with a commitment to restore the SNAP offset through another legislative action.
The Food System Economic Partnership is a regional nonprofit in Southeast Michigan serving Wayne, Washtenaw, Lenawee, Jackson and Monroe Counties. We exist to catalyze change in the food system and provide research, education and outreach with urban and rural partnerships, resulting in agricultural economic development opportunities, sustainable communities, and healthy local economies.
---
If you no longer wish to receive these emails, please reply to this message with "Unsubscribe" in the subject line or simply click on the following link: Unsubscribe
---
Food System Economic Partnership
P.O. Box 8645
Ann Arbor, Michigan 48107-8645

Read the VerticalResponse marketing policy.